POLL 09

Which is your favorite Coroner's Sun track?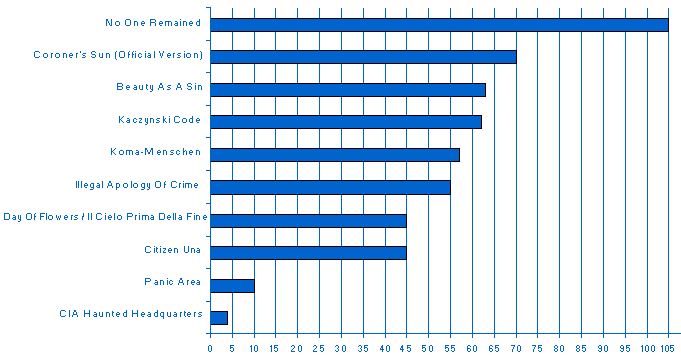 Total votes: 516

Poll endurance: 1st March 2006 / 1st December 2006

Personal considerations:

Astonishing. Only with this word is possible to describe the feedback that Coroner's Sun received among the listeners.

Probably there isn't a best balanced album in Kirlian Camera history, as all the votes were shared among most of the songs of this work. In fact, if the preferences at the long distance awarded the amazing No One Remained, all the other positions show minimal score differences (it's enough to think that between the second position and the last but two there are just only 25 votes of difference!).

The second position is gained by Coroner's Sun (Original Version), a song here recorded in its definitive - and better, according to the votes! - form.

The third position has been a nice fight between Kaczynski Code and Beauty As A Sin, two songs very different but really nice. At the end the last one won by one single vote.

A similar situation happened also for Koma-Menschen and Illegal Apology Of Crime, this time the difference was two votes, and for the first time two songs evened off: The Day Of Flowers / Il Cielo Prima Della Fine and Citizen Una.

At the bottom of the chart finally the opener Panic Area and CIA Haunted Headquarters: no surprise to see them here as their "nature" and purpose are a bit different from the other songs, being needed inside the album context.

Here below the comments received (chronologically sorted) - really few this time, why???

01 - Please tour north-western germany. thanks and best wishes Andi

02 - it's really hard to choose one single song, coroner's sun is an amazing album without fillers and with excellent tracks, thanks angelo and elena!

03 - Sono costantemente indeciso tra circa sette-otto canzoni quindi dovrò risolvere la questione votando un po' per ciascuna!

04 - Out of the tracks on Coroner's Sun I chose Kaczynski Code, but in fact I would love to see a return to the orchestral sound of Schmerz. A little more variety in arrangement would be welcome, too. Keep up the good work!