POLL 05

What would you like to be released before?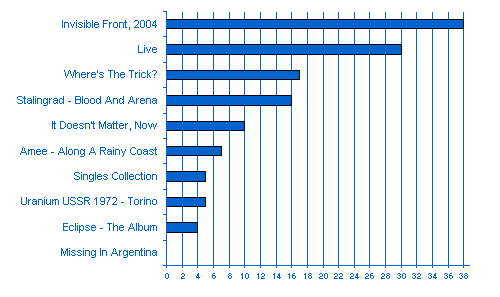 Total votes: 135

Poll endurance: 20th August 2002 / 10th February 2003

Personal considerations:

A new record! This was probably the most important poll till now, and I'm happy to inform all of you that the band is taking care of the results.

There is an abyss between first two positions and all the others: I think it's a great index of faithfulness to desire the new album and finally a live album that thrashs away all the bad bootlegs around, giving back all the sensation that Kirlian Camera can give at gigs.

About third place, as you already know the mini album was deleted but it will be released soon the new single K-PAX.

New material however is the main interest of the fans, also a follow-up of Stalingrad side-project seems to be very waited.

Slightly less the new projects Amee (Emilia Lo Jacono solo) and Uranium USSR 1972, but probably the people don't know what expect from what they cannot know (nothing was ever released before, except a track on Absentee), and the choice between the new album and a new project is very easy.

But some people don't forget the past: it's interesting the result of It Doesn't Matter, Now, while a bit disappointing that about Eclipse, even if many people owns the second one so they could be reluctants to buy a re-edition.

Good popularity could be the reason about low result of Singles Collection: all in all, the rarest singles are the first ones, not the following.

Finally, Missing In Argentina took 0 votes, so strangely people wants new songs, songs from side-projects, songs played live, songs of the past, but not sleeping songs, released in obscure compilations... but even this is a particularity of Kirlian Camera fans!