POLL 04

Who is / was the best singer in Kirlian Camera history?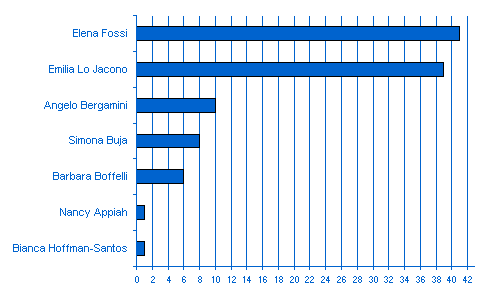 Total votes: 106

Poll endurance: 23rd March 2002 / 20th August 2002

Personal considerations:

Record! The fourth poll broke any previous feedback. Thanks to all the people who liked this contest.

First of all I'd like to clear that ANY singer in Kirlian Camera history deserves maximum respect for his/her great work.

Of course some of them sang lesser than others, so the positions in the chart are lower.

The first and the second results are pratically the same: the result of Elena Fossi is amazing, she joined the band very later but reached the first position due her great voice and passion.

Emilia Lo Jacono instead is the female voice that lasted more. And her efforts are well represented by the position of the chart.

Second block is represented by the third and the fourth place, divided between Angelo Bergamini and Simona Buja. She was the first voice of the band, and I guess many listeners discovered her songs thank to The Ice Curtain retrospective, and Uno of course.

About the head of the band, in recent times he's singing less, so maybe gained no many votes by recent fans.

Final positions are due to little presence in KC works. Anyway Barbara Boffelli saw recognized her excellent work done in Unidentified Light, while Nancy Appiah and Bianca Hoffman were penalized by too much temporary appearance in KC albums. But also their works were very fine, of course.