POLL 02

Which is the best KC mini-album?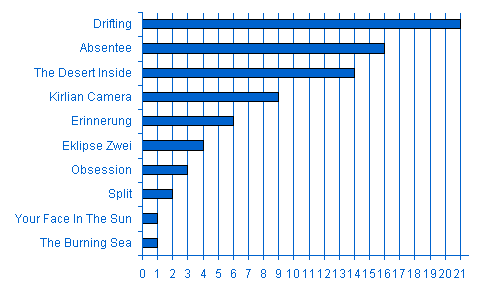 Total votes: 77

Poll endurance: 1st February 2001 / 30th June 2001

Personal considerations:

Glad to see that the feedback of people increased comparing to the previous poll, even if this one lasted a month more.

The result of Drifting is quite surprising, because the mood of this poll seems to be discarding the lack of variety.

In fact EP like Your Face In The Sun or The Burning Sea are in the bottom of the chart. But even The Desert Inside doesn't confirm this impression.

The position of Absentee is amazing, it was out in the middle of poll but it reached the top of the chart quite easily, just because it's a real masterpiece in my opinion.

Disappointment for Eklipse Zwei, from many considered the EP more loved by German people, but its result is nothing of special. Instead, the early and rare Kirlian Camera EP flew high in the chart, another proof that confirms the value of Kirlian Camera through the years.