POLL 01

Which is the best KC full-lenght album?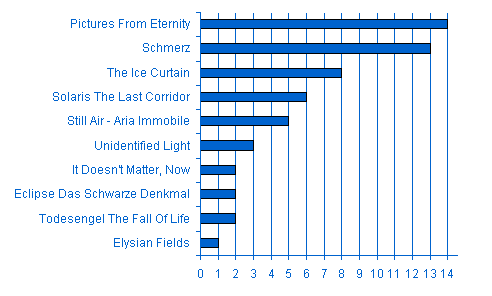 Total votes: 56

Poll endurance: 1st September 2000 / 31st January 2001

Personal considerations:

So this poll ended. About the first two winners there is no much to say, both of the albums are more easy-listening comparing to other ones, while the not excellent result of Unidentified Light is quite strange.

It's very important the result of The Ice Curtain because it's true that it's a greatest hits, but also features old tracks that demonstrate that old Kirlian Camera have been very appreciated. So the reason because the first chronological albums are in the bottom of the chart probably is due to the fact that many people don't own them, even if the two votes to the rarest It Doesn't Matter, Now are quite surprising (how many people own it?), while the result of Todesengel is quite disappointing, because it was one of the band best-seller album ever.

Finally, two very good results were obtained by Solaris and Still Air, two albums particulary difficult to be understood: the first one was quite criticized at its release, while the second one was out after two months of poll beginning.